SHOWING FRI, FEB 21 – FEB 27
7:00 PM:   FORD V FERRARI 
Academy Award-winners Matt Damon & Christian Bale star in FORD V FERRARI, based on the remarkable true story of the visionary American car designer Carroll Shelby (Matt Damon) & the fearless British-born driver Ken Miles (Christian Bale), who together battled corporate interference, the laws of physics, & their own personal demons to build a revolutionary race car for Ford Motor Company & take on the dominating race cars of Enzo Ferrari at the 24 Hours of Le Mans in France in 1966.  FORD V FERRARI is based on the true story of race car rivalries & American auto ambition – but it also captures the family & fatherhood aspect as race car drivers were pushing the limits of danger while raising their young families. This is a multiple Academy award-winning fantastic true story movie with outstanding actors, performances & direction that may just make you want to drive too fast!
Stars Matt Damon & Christian Bale, True Story, PG-13 (Language), 150 Minutes
7:30 PM:  BAD BOYS FOR LIFE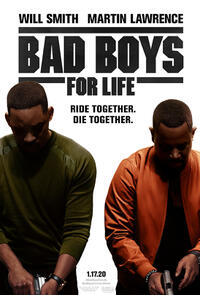 The Bad Boys Mike Lowrey (Will Smith) & Marcus Burnett (Martin Lawrence) are back together for one last ride in the highly anticipated BAD BOYS FOR LIFE. The wife & son of a Mexican drug lord embark on a vengeful quest to kill all those involved in his trial & imprisonment — including Miami Detective Mike Lowrey. When Mike gets wounded, he teams up with partner Marcus Burnett & special tactical squad AMMO to bring the culprits to justice. But the old-school, wisecracking cops must soon learn to get along with their new elite counterparts if they are to take down the vicious cartel that threatens their lives. Loaded up with action & a double helping of leading-man charisma, BAD BOYS FOR LIFE revigorates this action/comedy franchise – find out why this hit movie has earned a 96% positive audience rating!
Stars Will Smith, Martin Lawrence & Vanessa Hudgens, Action/Comedy, R (Language & Violence), 120 Minutes