SHOWING APR 12 – APR 18
7:00 PM:  Disney's DUMBO
From Walt Disney Studios comes the all-new live-action adventure DUMBO, expanding the beloved classic story where differences are celebrated, family is cherished & dreams take flight. Circus owner Max Medici (Danny DeVito) enlists former star Holt Farrier (Colin Farrell) & his children to care for a newborn elephant, Dumbo, whose oversized ears make him a laughingstock in an already struggling circus. But when the family discovers that Dumbo can fly, the circus makes an incredible comeback, attracting the attention of persuasive entrepreneur V.A. Vandevere who wants to showcase Dumbo in his latest, larger-than-life entertainment venture, Dreamland. Dumbo soars to new heights alongside a charming & spectacular aerial artist, Colette (Eva Green), until Holt learns that beneath its shiny veneer, Dreamland is full of dark secrets. DUMBO delivers Disney's magical visual effects as well as inspirational moments encouraging kids to make the most of their abilities & to recognize the important people & blessings in their lives – especially when they feel like they don't fit with the world around them.
Stars Colin Farrell, Eva Green, Michael Keaton & Danny DeVito, Family Movie, PG, 110 Minutes
7:30 PM: FIVE FEET APART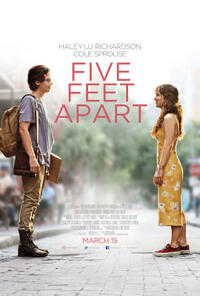 In FIVE FEET APART, Stella Grant (Haley Lu Richardson) is every bit a seventeen-year-old…she's attached to her laptop & loves her best friends. But unlike most teenagers, she spends much of her time living in a hospital as a cystic fibrosis patient. Her life is full of routines, boundaries & self-control – all of which is put to the test when she meets an impossibly charming fellow CF patient named Will Newman (Cole Sprouse). There's an instant flirtation, though restrictions dictate that they must maintain a safe distance between them. As their connection intensifies, so does the temptation to throw the rules out the window & embrace. Further complicating matters is Will's potentially dangerous rebellion against his ongoing medical treatment. Stella gradually inspires Will to live life to the fullest, but can she ultimately save the person she loves when even a single touch is off limits?
Stars Haley Lu Richardson & Cole Sprouse, Romance/Drama, PG-13 (Language), 120 Minutes