Not attending the movie? Stop by any night for curbside food – the best movie theatre popcorn, Blue Bunny ice cream flavors & all our other treats! We appreciate your support as we strive to re-start the theatre business!
SHOWING JULY 23 – JULY 29
7:00 PM:  DreamWork's BOSS BABY: FAMILY BUSINESS
In DreamWork's BOSS BABY: FAMILY BUSINESS, the Templeton brothers –Tim & his Boss Baby little bro Ted – have become adults & drifted away from each other. Tim is now a married stay-at-home dad. Ted is a hedge fund CEO. But a new boss baby with a cutting-edge approach & a can-do attitude is about to bring them together again … & inspire a new family business. BOSS BABY: FAMILY BUSINESS is a story that hits straight to the funny bone & heart & at the core of the series is that love/family is ultimately the greatest source of wealth.
Animated/Family/Comedy, PG, 1 Hour & 50 Mins
7:30 PM:  BLACK WIDOW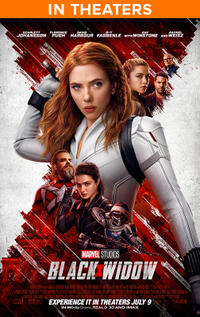 In Marvel Studios' action-packed spy thriller BLACK WIDOW, Natasha Romanoff a.k.a. Black Widow confronts the darker parts of her ledger when a dangerous conspiracy with ties to her past arises. Pursued by a force that will stop at nothing to bring her down, Natasha must deal with her history as a spy & the broken relationships left in her wake long before she became an Avenger. BLACK WIDOW serves up another savory helping of the blockbuster Marvel formula, with a fun family dynamic adding extra character development in the midst of all the action.
Stars Scarlett Johansson, Action/Adventure, PG-13 (Violence), 2 Hours & 10 Mins