The Center Theatre is open! Not attending the movie? We encourage everyone to stop by for curbside food as we will be offering that every night of the week as a great way to support the theatre as we try to start up our business again!
SHOWING MAY 7 – 13
7:00 PM:  TOM & JERRY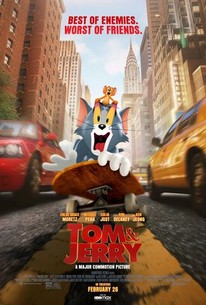 In TOM & JERRY, one of the most beloved rivalries in history is reignited when Jerry moves into New York City's finest hotel on the eve of "the wedding of the century," forcing the event's desperate planner to bring in Tom to get rid of him. The ensuing cat & mouse battle threatens to destroy her career, the wedding & possibly the hotel itself. Based on the original characters developed by William Hanna, Warner Brother's TOM & JERRY's new big screen adventure is an eye-popping blend of classic animation & live action for all ages to enjoy!
Stars Chloe Grace Moretz & Michael Pena, PG, 105 Minutes
https://gettickets.tomandjerrymovie.com/
KC Power Sports of Grundy Center is sponsoring a free popcorn & drink for anyone attending TOM & JERRY this Sat & Sun night (May 8 & 9) – a huge thank you to this awesome local business that desires to help the theatre come back!