SHOWING THRU JULY 19-25
7:00 PM:  TOY STORY 4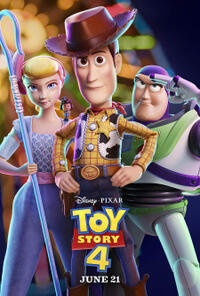 In Disney's TOY STORY 4, Woody, Buzz Lightyear & the rest of the gang embark on a road trip with Bonnie & a new toy named Forky. The adventurous journey turns into an unexpected reunion as Woody's slight detour leads him to his long-lost friend Bo Peep. As Woody & Bo discuss the old days, they soon start to realize that they're worlds apart when it comes to what they want from life as a toy.  Heartwarming, funny & beautifully animated, TOY STORY 4 manages the unlikely feat of extending –& perhaps concluding – a practically perfect animated saga. Once again, high ratings & reviews on Rotten Tomatoes for this newest Disney big screen hit!
Animated/Family/Sequel, G, 100 Minutes
NO 7:30 SHOW THIS WEEK
THE LARGE AUDITORIUM WILL BE CLOSED FOR A LITTLE MAINTENANCE THIS WEEK – 2 MOVIES RETURNING FRI, JULY 26 – SHOOTING FOR SPIDER-MAN, YESTERDAY OR WHATEVER OTHER GREAT OPTIONS WILL BE AVAILABLE TO US!