Stop by curbside any night for popcorn, Blue Bunny ice cream & other concession treats!
NOW SHOWING JAN 21 – 27:
7:00 PM:  WEST SIDE STORY
Actors renowned in theater & film, those new to the silver screen & a host of talented singers & dancers will join Steven Spielberg & his crew in bringing a new adaptation of the original, beloved stage musical WEST SIDE STORY to the cinema. Spielberg's sweeping take on a classic, full of dazzling dance routines, updates the original story without losing its heart.
Stars Ansel Elgort & Rachel Zegler, Romance/Musical, PG-13 (Language & Violence), 2 Hours & 35 Minutes
7:30 PM: THE KING'S MAN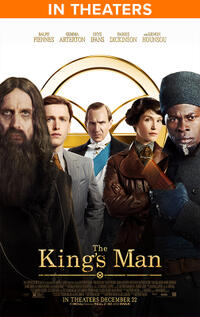 As a collection of history's worst tyrants &criminal masterminds gather to plot a dangerous war, one man must race against time to stop them. Discover the origins of the very first independent intelligence agency in THE KING'S MAN.
Stars Ralph Fiennes, Matthew Goode & Harris Dickinson, Action/Comedy, R (Language & Violence), 2 Hours & 10 Minutes