SHOWING OCT 11 – OCT 17 
7:00 PM:  DOWNTON ABBEY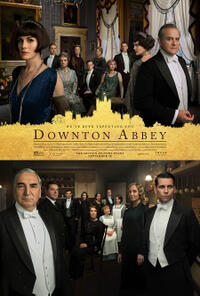 The endearing & popular television series Downton Abbey followed the lives of the Crawley family & the servants who worked for them at the turn of the 20th century in an Edwardian English country house. Now the worldwide phenomenon DOWNTON ABBEY becomes a grand motion picture event, as the beloved Crawleys & their intrepid staff prepare for the most important moment of their lives. A royal visit from the King & Queen of England will unleash scandal, romance & intrigue that will leave the future of Downton hanging in the balance.  DOWNTON ABBEY contains many of the ingredients that made the show an enduring favorite, welcoming fans back for a fitting resplendent homecoming, earning the movie a 95% positive audience approval rating! Don't miss it this week at the Center Theatre!
Stars Hugh Bonneville, Laura Carmichael & Matthew Goode, Period Drama/Adaptation,  PG, 120 Minutes
7:30 PM: NO 7:30 SHOW THIS WEEK DUE TO THE INSTALLATION OF BRAND-NEW SEATING IN THE LARGE AUDITORIUM!!!
COMING UP NEXT:   ABOMINABLE