NOW SHOWING AUG 11 – AUG 17
7:00 PM:  DUNKIRK (True Story Movie!)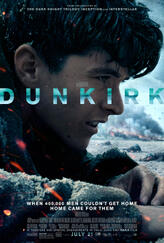 Acclaimed filmmaker Christopher Nolan wrote & directed DUNKIRK, a true story/historical thriller about the Dunkirk evacuation during the early days of World War II. 400,000 British & Allied troops end up trapped & cut off, surrounded by the German army from the beaches & harbor of Dunkirk, France, between May 27- June 04, 1940, during the Battle of France in World War II. The story unfolds on land, sea & air. RAF Spitfires engage the enemy in the skies above the Channel, trying to protect the defenseless men below. Meanwhile, hundreds of small boats manned by both military & civilians are mounting a desperate rescue effort, risking their lives in a race against time to save even a fraction of their army. Dunkirk features a multigenerational ensemble cast, including Fionn Whitehead, Tom Glynn-Carney, Jack Lowden, Harry Styles, Aneurin Barnard, James D'Arcy and Barry Keoghan, Kenneth Branagh, Cillian Murphy, Mark Rylance & Tom Hardy. Brand new DUNKIRK is a true story film reigning near the top of the U.S. box office charts & showing this week at your hometown Center Theatre!

Stars Kenneth Branagh, Tom Hardy, Harry Styles, Cillian Murphy, True Story/Historical Drama, PG-13 (Violence), 110 Minutes
7:30 PM: NUT JOB 2 2D (Animated family/comedy opening nationwide!)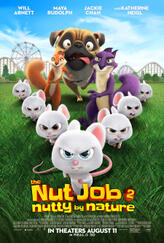 In the brand-new NUT JOB 2 2D, Surly Squirrel (Will Arnett) & the gang are back. We are once again in Oakton where the group of animals are horrified when their beloved Liberty Park is targeted for demolition by the city's unscrupulous mayor. In an attempt to reclaim their home, Surly & his ragtag group of animal friends band together to save their home, defeat the mayor & take back the park. This animated comedy/sequel also features the voices of Katherine Heigl, Maya Rudolph, Bobby Moynihan, Jackie Chan, Jeff Dunham & Bobby Cannavale. NUT JOB 2 2D is a brand-new animated family comedy opening nationwide this week at the Center Theatre!

Featuring Voices of Will Arnett, Katherine Heigl, Maya Rudolph & Jackie Chan, Animated Family/Comedy, PG, 90 Minutes

SPECIAL 10:00 AM SHOWING ON THURS, AUG 17, DOORS OPEN AT 9:30!