SHOWING NOW THRU  JUNE 20
7:00 PM:  X-MEN: DARK PHOENIX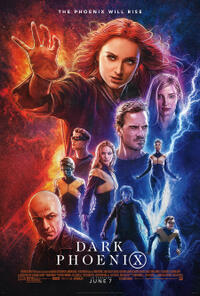 In the brand new, latest Marvel movie X-MEN: DARK PHOENIX, the X-MEN face their most formidable & powerful foe: one of their own. This is the story of one of the X-Men's most beloved characters, Jean Grey (Sophie Turner), as she evolves into the iconic Dark Phoenix. During a life-threatening rescue mission in space, Jean is hit by a cosmic force that transforms her into one of the most powerful mutants of all. Wrestling with this increasingly unstable power as well as her own personal demons, Jean spirals out of control, tearing the X-Men family apart & threatening to destroy the very fabric of our planet. The film is the most intense & emotional X-Men movie yet. It is the culmination of 20 years of X-Men movies, as the family of mutants that we've come to know & love must find a way to unite as they face a most uncertain future.
Stars Jennifer Lawrence, Sophie Turner, Nicholas Hoult & Michael Fassbender, Adventure/Sequel, PG-13 (violence), 110 Minutes
7:30 PM: Disney's ALADDIN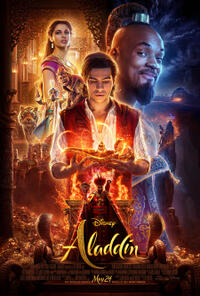 Kicking off the summer big-screen hits is Disney's ALADDIN, the thrilling & vibrant live-action adaptation of Disney's animated classic. ALADDIN is the exciting tale of the charming street rat Aladdin, the courageous & self-determined Princess Jasmine & the Genie who may be the key to their future. The film stars Will Smith as the Genie, Naomi Scott & Jasmine & Mena Massoud as Aladdin. Don't miss the music & magic this week on the big screen at the Center Theatre!
Stars Will Smith, Naomi Scott & Mena Massoud, Family/Remake, PG, 120 Minutes
http://movies.disney.com/aladdin-2019