SHOWING DEC 21 – DEC 27          
CLOSED DEC 24 & 25
7:00 PM:  FANTASTIC BEASTS 2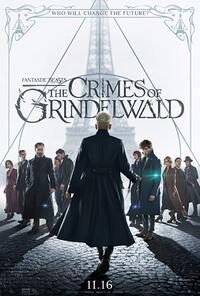 Warner Bros. Pictures' Fantastic Beasts 2: The Crimes of Grindelwald is the second of five all new adventures in J.K. Rowling's Wizarding World. At the end of the first film, the powerful Dark wizard Gellert Grindelwald (Johnny Depp) was captured by MACUSA with the help of Newt Scamander (Eddie Redmayne). But, making good on his threat, Grindelwald escaped & has set about gathering followers, most unsuspecting of his true agenda: to raise pure-blood wizards up to rule over all non-magical beings. In an effort to thwart Grindelwald's plans, Albus Dumbledore (Jude Law) enlists his former student Newt Scamander, who agrees to help, unaware of the dangers that lie ahead. Lines are drawn as loyalty is tested, even among the truest friends & family, in an increasingly divided wizarding world.
Stars Jude Law, Johnny Depp & Ezra Miller, PG-13 for violent Scenes, 130 Minutes
10:00 AM MATINEE ON THURS, DEC 27, DOORS OPEN AT 9:30!
7:30 PM:  RALPH BREAKS THE INTERNET 2D
The delightful, highly imaginative & creative Wreck-It Ralph 2: Ralph Breaks the Internet leaves Litwak's video arcade behind, venturing into the uncharted, expansive world of the internet – which may or may not survive Ralph's wrecking. Ralph & fellow misfit Vanellope von Schweetz will risk it all by traveling to the world wide web in search of a replacement part to save Vanellope's video game, Sugar Rush. In way over their heads, Ralph & Vanellope rely on the citizens of the internet to help navigate their way, including a webite entrepreneur named Yesss, who is the head algorithm & the heart & soul of trend-making site "BuzzzTube." Equal parts funny, touching & visually great looking, Wreck-It Ralph 2 is the rare animated sequel that just may surpass the original.

Animated/Family/Sequel, PG, 110 Minutes

https://movies.disney.com/ralph-breaks-the-internet-wreck-it-ralph-2

10:00 AM MATINEE ON THURS, DEC 27, DOORS OPEN AT 9:30!

COMING VERY SOON:

SECOND ACT

Disney's MARY POPPENS RETURNS

BUMBLEBEE (NEW TRANSFORMERS REBOOT)