SHOWING FRI, JUNE 23 – 29
7:00 PM: WONDER WOMAN
The long-awaited WONDER WOMAN hits the big screen at the Center Theatre this week! In Warner Brothers latest box office smash, actress Gal Gadot brings the girl power as she returns as the title character in this epic adventure from Director Patty Jenkins. Before she was Wonder Woman, she was Diana, princess of the Amazons, raised on the sheltered island of Themyscira & trained to be an unconquerable warrior. When an American pilot crashes on their shores & tells of a massive conflict raging in the outside world, Diana leaves her home, convinced she can stop the threat. Fighting alongside man in a war to end all wars, Diana will discover her full strengths – & her true destiny – taking the first steps to becoming the hero that is Wonder Woman. Find out why WONDER WOMAN is being heralded as the best DC movie to date, with a strong storyline that involves action, emotion, humor, suspense & heart. Spectacularly choreographed fight scenes & suspense stand out on the big screen, still WONDER WOMAN brings a deeper message about peace & love, these being her true missions, & a major reason she's one of the most intriguing of superhero characters.
Action/Adventure, Stars Gal Gadot & Chris Pine, PG-13 (Violence), 140 Minutes
7:30 PM: CAPTAIN UNDERPANTS 2D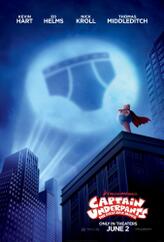 Based on the worldwide sensation & best-selling book series, giant animation studio DreamWorks Animation brings the family/comedy CAPTAIN UNDERPANTS: THE FIRST EPIC MOVIE 2D. This brand-new comedy for the entire family tells the story of two overly imaginative pranksters named George & Harold, who hypnotize their principal into thinking he's a ridiculously enthusiastic superhero named Captain Underpants, the superhero from their homemade comic book. CAPTAIN UNDERPANTS 2D promises to be an entertaining movie for adults & children, funny from start to finish. Don't miss CAPTAIN UNDERPANTS 2D, this week at your hometown Center Theatre!

Animated/Family/Comedy, PG, 90 Minutes

www.dreamworks.com/captainunderpants

10:00 AM MATINEE OF CAPTAIN UNDERPANTS 2D ON FRI, JUNE 23, DOORS OPEN AT 9:30!